Piping around a Spherical Tank
Thermal and seismic analysis of existing pipes around spherical tanks and creation of modification plans, and thermal / seismic analysis of new pipes.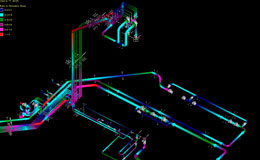 Code

: KHK Level 2 (Alternative evaluation method)

Horizontal seismic intensity

: 0.72

Temperature

: -200 ℃ to 40 ℃

Pressure

: 1.0MPa to 2.0MPa
Due to the large seismic deformation of the spherical tank, the piping shape and support structure were reviewed to prevent generation of excessive force in the nozzle.

Ensuring safety against loads with contradictory characteristics like temperature and earthquake is an issue. In seismic analysis, it was necessary to make a difficult decision to constrain inertial force while controlling seismic deformations.

As for existing piping, consideration was given by changing the support so that modification is minimal.
Equipment piping for High-rise Building
Thermal and seismic analysis of hot and cold water piping in high-rise buildings.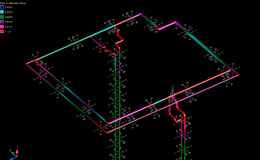 Code

: B31.3

Horizontal seismic intensity

: 1.30

Temperature

: 45 ℃

Pressure

: 2MPa
In consideration of economic efficiency, the low pressure range is designed with thin pipes and inexpensive materials. Since a vertical pipe extending up to about 130 m is supported at the lowest end, thermal expansion in the upper part becomes large, and measures such as partially increasing the pipe thickness were taken.

Since the designed horizontal seismic intensity was also critical, we installed line stops on each of the four sides of the loop to control the behavior during an earthquake.

Measures for large building floor displacements were also taken by increasing support gaps around the connection between the vertical pipe and the loop .
Piping around a Pressure Vessel
Thermal and seismic analysis of preheating pipe around pressure vessel.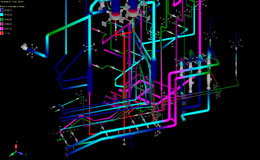 Code

: B31.3

Horizontal seismic intensity

: 0.40

Temperature

: 375 ℃

Pressure

: 17MPa
The complicated piping around the pressure vessel is loaded and modeled while referring to the 3D piping diagram.

The thermal expansion of the equipment was calculated from the equipment drawings, and given as a imposed displacement for a more realistic evaluation.
Arrangement of the supports must secure safety against both thermal and seismic load, which have contradictory characteristics. Since construction is carried out in a narrow space, support plan must have optimized number of supports.