Nippon Budokan
Nippon Budokan is a mixed structure of climbing rafters made of laminated wood and the rest of the columns and beams are made of steel.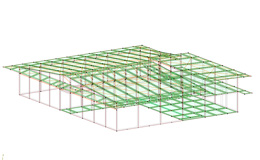 Structure

: Steel
Timber Moment resisting frame

Total floor area

: 1100㎡

Number of stories

: 2 floors
Braces are installed to support large spans of wooden beams. As for the foundation, only a part of the foundation is mat foundation, and the others are strip foundations to reduce concrete volume.

Since the principal rafter and the second floor are complicated, the structure was modeled as it is to understand the exact behavior of the building.

By making it moment resisting frame, future design plan changes can be added.
Multi-storey parking lot
Multi-storey parking lot with continuously inclined floor and shops at the first floor.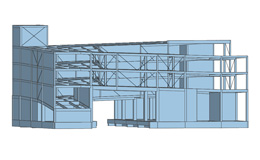 Structure

: Steel Structure
1F as Rigid Frame structure 2F as Braced Frame structure

Total floor area

: 3600㎡

Number of stories

: 4 Floors
Since the floor is inclined, a continuous slope model is created to check the axial force generated in the beam and the in-plane shear force of the floor.
Beams are attached to the columns unevenly at the center of the parking lot. With this, columns were selected so as not to crash against shear forces
due to unbalanced forces generated when braces buckle.

In addition, with the first floor as Rigid Frame structure similar to a piloti structure, its rigidity and strength tend to be smaller than that of the upper floor. Members at the upper floors must be selected carefully so as not to cause a brittle fracture at the first floor rigid portion even if the members at the upper floors yielded.
Car Ramp
Installation of a steel roof on a car ramp in accordance to its inclination.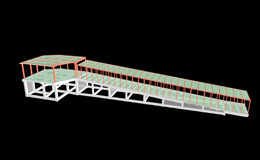 Structure

: RC structure + Steel Structure
1st Floor RC structure with shear walls, 2nd floor Rigid Frame steel structure

Total floor area

: 800㎡

Number of stories

: 2 floors
Since the height of the RC part is different between the car ramp and the landing, the rigidity of the structure is distributed by thickening the shear wall
of the landing area so as not to concentrate the stress on the ramp part.

For the steel part, in order to prevent torsion, expansion joint was added at the boundary between the landing and the inclined car ramp which will cause the distortion.