Reinforced Concrete Building: Seismic Diagnosis and Reinforcement Design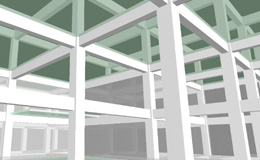 Year

: 1974

Purpose

: Office

Structure

: Reinforced Concrete 3 floors

Scale

: 1650 ㎡

Result

: Doubts on the capacity to resist an earthquake
① Main factors
・ The shape was unbalanced in plan and elevation, specifically uneven distribution of stairwells and removal of the outer shear wall during renovation.
・ Aging over time is severe, such as the fact that the rate of carbonation of main frame concrete has exceeded the theoretical value and has reached the reinforcing bar exposing it. Several cracks accompanied by bursting have been confirmed.
・ The columns to which the partition walls are attached are extremely brittle columns. The columns are type 2 structural elements thus, resulting in poor building toughness.

② Reinforcement design
・To reduce the current eccentricity, it is planned to add braced frames and shear walls, and arrange reinforcing parts of existing walls in a well-balanced manner.
In addition, in order to improve the energy absorption capacity of the building, it is planned to reinforce the seismic resistant slits and avoid extremely brittle columns.
Steel Structure: Seismic Diagnosis and Reinforcement Design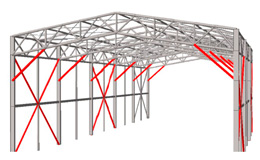 Year

: 1972

Purpose

: Gymnasium

Structure

: Steel 2 floors

Scale

: 1900 ㎡

Result

: Risk of collapse due to earthquake and impact
① Main factors
・Since the vertical brace is not designed for advanced earthquake design, there is a risk of breakage at the end of the brace having poor toughness.
・The cross section of the lattice that constitutes the truss is too small for the stress due to earthquake, and the horizontal strength of the frame is insufficient.
・Some of the vertical braces were removed during expansion and renovation, resulting to significant eccentricity and the building is extremely unbalanced.

② Reinforcement Design
The plan is to arrange the additional vertical braces in a well-balanced manner to reduce the current eccentricity. In addition, the joint was designed to satisfy the retained strength connection so that the vertical brace does not break during the mechanism and its full plastic strength can be secured.
Manufacturing Plant Seismic Diagnosis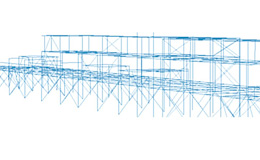 Year

: 1968

Purpose

: Piperack

Structure

: Steel 4 levels

Scale

: 90m x 10m

Result

: In some members, stress ratio exceeding 1.00 was confirmed.
At the time of construction, zoning, which analyzes each frame, was adopted. In diagnosis, the horizontal force percentage during an earthquake is calculated according to the actual situation, and a three-dimensional full model is analyzed for a more accurate result. The plan was to conduct an analysis to confirm whether each member is within the allowable stress.

In addition, break out and failure of structural members due to addition and renewal of piping, and cross-section defects such as corrosion due to rusting of steel frame are reflected as reduction of member strength.

A diagnosis was made after conducting a site inspection so that the design would not be on the dangerous side.