先輩インタビュー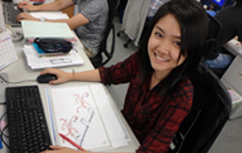 Why did you choose RISE?
RISE is quite similar with the company I worked for during my internship in the Philippines. Every day was hectic but I am learning. That was the only important thing on my mind. As long as I am learning something new each day, I feel fulfilled. I am actually not familiar with how other Japanese companies work but the warmth I felt when I first stepped inside the office for my orientation made me think that RISE might be the one for me.
What is worth doing for you here?
I know within myself that I don't know anything yet. I am incapable to do anything yet on my own. Until the day comes that I am able to teach someone else, I have to challenge myself to do more than anyone else in the company. With the language barrier and everything, it is exciting to see myself doing what my seniors are doing normally; talking to clients, making structural design look simple with experience.
What do you struggle the most?
I am still currently studying Japanese and the Japanese codes. Sometimes, misunderstanding arises because of my limited vocabulary or wrong Japanese grammar but it is my problem that I try to solve each day.